Earn Your Associate Degree, Undergraduate Degree, and/or Certificate Online for Free
Between commuting to campus and taking on an extra financial burden, it may seem almost impossible to earn a degree. Let's change that!
has partnered with Creative Benefits for Educators, as a preferred partner for retirement and financial planning, to serve FEA's members through Educators Choice.
Educators Choice is a financial guidance and planning program exclusively for FEA members. Through Educators Choice, FEA members gain access to complimentary webinars, seminars, and face-to-face financial education. Members also receive exclusive benefits and no-cost one-on-one counseling to create an individual, unique, and customized financial plan.
Contact Kim Baum  904-258-1612   kim.baum@suncoastcreditunion.com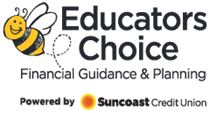 Discounts for CCEA/FEA/NEA Members
Scholarships for CCEA members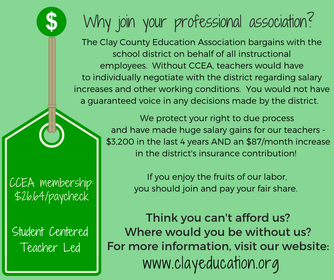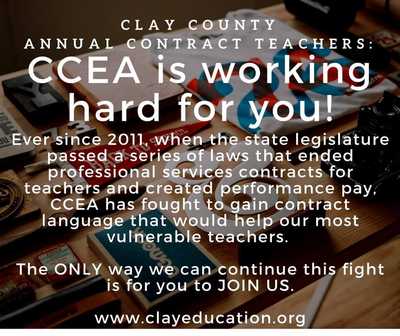 SALARIES: Our contract does not guarantee automatic salary increases. CCEA has to fight for them EVERY YEAR at the bargaining table. When you were hired you assumed you would be given a pay increase each year. The district has failed to budget for this for 7+ years.
PROTECTIONS FOR ANNUAL CONTRACT TEACHERS: Two years ago we successfully bargained for a new phase in the hiring process that guarantees annual contract teachers who have been let go an interview before brand new hires.
INSERVICE: Many inservice trainings require follow-up paperwork before points will be awarded. How often have you gone to a training but didn't find the information relevant to your specific classroom needs? CCEA is fighting for teachers to receive partial points for seat time for all trainings.
INSURANCE: Insurance premiums have risen year after year but the district has failed to increase their contribution. The result is that teachers have seen their take-home pay decline. We recently won an increase in the district's contribution and will continue to fight for increases in the future.
CONTRACT MONITORING: CCEA ensures that district and school-based administrators follow the contract and can file grievances on behalf of members when the contract is violated.
REPRESENTATION ON DISTRICT-LEVEL COMMITTEES: CCEA places teachers on committees such as CAS (our evaluation tool), PDAC (professional development), Insurance, Calendar, and Student Code of Conduct Review. Without us, many decisions would be made with no teacher input!
PROFESSIONAL DEVELOPMENT: We offer a 20-hour ESE course that satisfies the state's recertification requirements.